December 20, 2010
Yet another Christmas is here, and I don't want a Christmas tree. That feels really weird for me. I haven't figured out why. I love Christmas trees in general. Especially real ones. I didn't want one last year either. Last year I thought maybe it was because we were in a new place and it didn't feel Christmasy yet. So after saying I didn't want any tree last year, I changed my mind and thought I should go all out and make some new Christmas memories. I ended up with 4 Christmas "trees." One real on, one half tree that hangs on the wall, one small table top one and one made out of lights on our wall. I even made popcorn strings and bought candy canes for the real tree.
Well, I still don't really want a tree this year. At least I didn't until I saw this article.
I like that idea! And being a wood carver I have a lot of random wood around to use. So, here are a few photos of how we made our tree and what it looks like now.
I was able to find some pine, cherry and walnut woods in the right lengths to make a nice sized tree. David helped me lash the "branches" to the "trunk."
Here it is finished and empty, waiting for me to figure out how to decorate it. Looking good though!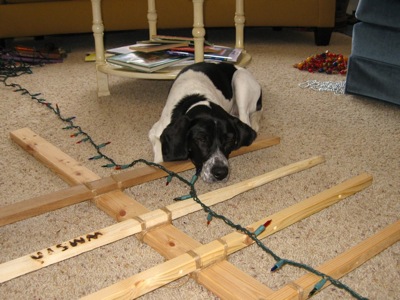 When I started decorated it, and trying to put lights on, I realized I would have to nail a few nails in the tree to make them stay on. Bella, who last year at this time would have been pacing the floor in fear of the sounds, joined me. Not only joined me, but decided that resting her chin on the tree while I was hammering into it was a good idea, and she didn't even flinch as I knocked the tree about! What a dog!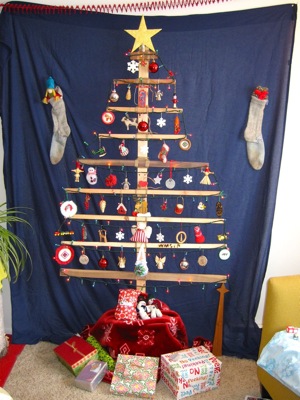 It took a couple of hours to figure out how to make the tree work. I didn't want to paint the wood but as I was putting ornaments on the tree, it was looking like a giant knick knack display, and didn't feel Christmasy at all! Then God suggested (all my great ideas are God inspired, only the stupid ones are mine;)) a way to get the contrasting colour I needed to make it work, and I just happen to have a navy bed sheet lying around. It makes all the difference!
Don't you love our stockings? I was reading "The Grinch Who Stole Christmas" when I was inspired with this idea. I thought our house needed the homeliest looking stockings I could find. These old wool socks of Grampie's fit the bill perfectly! The blue background makes them look better too!
David's parents were up yesterday to hear the Christmas Cantata at church, and came over for lunch. Dad obligingly took a "family" photo for us.
Merry Christmas Everyone! I hope you have a wonderful holiday!
In Christ,
Rita
Comment • ~ permanent link ~ • Category: [News / Rita]
(Happy Birthday to Me!)
So, it's a bit late, but I wanted to share a photo or two of my birthday and say how wonderful my hubby is!
He went all out for my birthday this year and got me fantastic gifts. (He did say it was easy to just take gifts off my amazon list, but I think he did a fantastic job picking.) I'm a big fan of both Shannon Hale's writing, and Nathan Hale's art work, so I was super excited about the books.
Of all the video's he could have picked, I wouldn't have thought he'd pick "If A Man Answers"! We watched it together that week, he didn't like it a lot, but I still love it! I think it is definatly more a gal's movie than a guys.
(The fun socks and purse are from my mom :))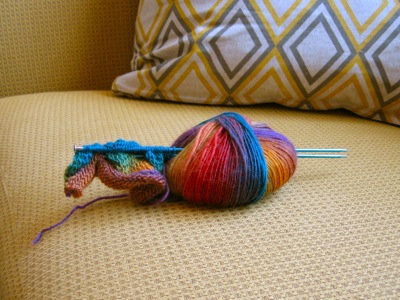 For a surprise, David got me a skien of fun sock yarn to use for the blanket I'm slowly working on.
And the best gift yet:
This book is out of print and the cheapest I've seen it on Amazon was 75 dollars and right now the cheapest is 175 dollars. David found it for 50 dollars from Canada. I am super excited to have this book, as it's helped me a LOT in learning the basics of carving and the carving tools I love. Highly recommended, if you can find it at an affordable price!
Besides being spoiled by my Hubby, I had a nice afternoon and evening with friends stopping by, even with the storm in the evening!
It was a beautiful day! Thanks to every one that helped make it great!
Love, in Christ
Rita
Comment • ~ permanent link ~ • Category: [News / Rita]