December 20, 2010
Yet another Christmas is here, and I don't want a Christmas tree. That feels really weird for me. I haven't figured out why. I love Christmas trees in general. Especially real ones. I didn't want one last year either. Last year I thought maybe it was because we were in a new place and it didn't feel Christmasy yet. So after saying I didn't want any tree last year, I changed my mind and thought I should go all out and make some new Christmas memories. I ended up with 4 Christmas "trees." One real on, one half tree that hangs on the wall, one small table top one and one made out of lights on our wall. I even made popcorn strings and bought candy canes for the real tree.
Well, I still don't really want a tree this year. At least I didn't until I saw this article.
I like that idea! And being a wood carver I have a lot of random wood around to use. So, here are a few photos of how we made our tree and what it looks like now.
I was able to find some pine, cherry and walnut woods in the right lengths to make a nice sized tree. David helped me lash the "branches" to the "trunk."
Here it is finished and empty, waiting for me to figure out how to decorate it. Looking good though!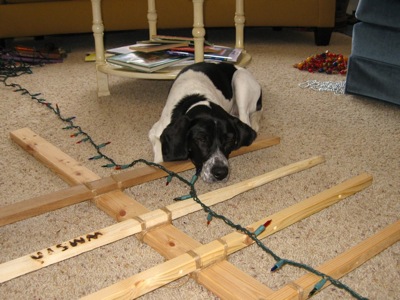 When I started decorated it, and trying to put lights on, I realized I would have to nail a few nails in the tree to make them stay on. Bella, who last year at this time would have been pacing the floor in fear of the sounds, joined me. Not only joined me, but decided that resting her chin on the tree while I was hammering into it was a good idea, and she didn't even flinch as I knocked the tree about! What a dog!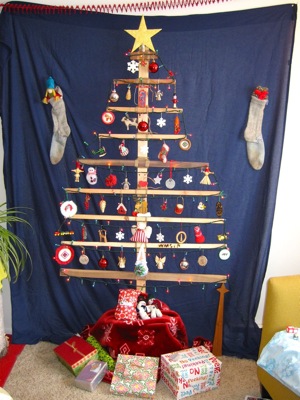 It took a couple of hours to figure out how to make the tree work. I didn't want to paint the wood but as I was putting ornaments on the tree, it was looking like a giant knick knack display, and didn't feel Christmasy at all! Then God suggested (all my great ideas are God inspired, only the stupid ones are mine;)) a way to get the contrasting colour I needed to make it work, and I just happen to have a navy bed sheet lying around. It makes all the difference!
Don't you love our stockings? I was reading "The Grinch Who Stole Christmas" when I was inspired with this idea. I thought our house needed the homeliest looking stockings I could find. These old wool socks of Grampie's fit the bill perfectly! The blue background makes them look better too!
David's parents were up yesterday to hear the Christmas Cantata at church, and came over for lunch. Dad obligingly took a "family" photo for us.
Merry Christmas Everyone! I hope you have a wonderful holiday!
In Christ,
Rita
Comment • ~ permanent link ~ • Category: [News / Rita]
(Happy Birthday to Me!)
So, it's a bit late, but I wanted to share a photo or two of my birthday and say how wonderful my hubby is!
He went all out for my birthday this year and got me fantastic gifts. (He did say it was easy to just take gifts off my amazon list, but I think he did a fantastic job picking.) I'm a big fan of both Shannon Hale's writing, and Nathan Hale's art work, so I was super excited about the books.
Of all the video's he could have picked, I wouldn't have thought he'd pick "If A Man Answers"! We watched it together that week, he didn't like it a lot, but I still love it! I think it is definatly more a gal's movie than a guys.
(The fun socks and purse are from my mom :))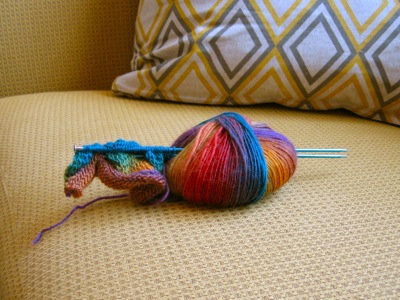 For a surprise, David got me a skien of fun sock yarn to use for the blanket I'm slowly working on.
And the best gift yet:
This book is out of print and the cheapest I've seen it on Amazon was 75 dollars and right now the cheapest is 175 dollars. David found it for 50 dollars from Canada. I am super excited to have this book, as it's helped me a LOT in learning the basics of carving and the carving tools I love. Highly recommended, if you can find it at an affordable price!
Besides being spoiled by my Hubby, I had a nice afternoon and evening with friends stopping by, even with the storm in the evening!
It was a beautiful day! Thanks to every one that helped make it great!
Love, in Christ
Rita
Comment • ~ permanent link ~ • Category: [News / Rita]
October 24, 2010
October 10, 2009.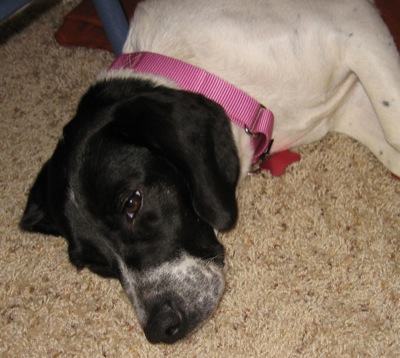 It's a date that has been ringing in my mind the past few weeks as the date that we picked up Bella, but as I neared the anniversary, I wondered if it wasn't the date of my friends wedding instead. In my laziness, I didn't check my diary until about the 13th. Yes, it was October 10, 2009 that we first got Bella. (And a happy Belated Anniversary to Allison and Greg!!)
When we got Bella, she was scared of just about everything.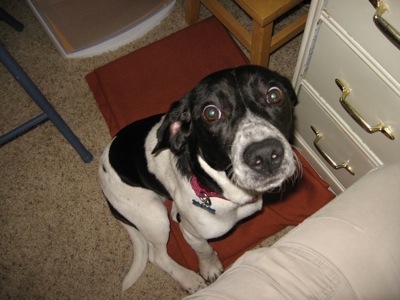 It made us nervous at first, not wanting to do anything more to mess her up, but looking back, it turned out wonderfully. Bella was moldable, willing and eager to please and to learn, even if it seemed at the time to be rather slow.
She has learned: to not pull on the leash (most of the time),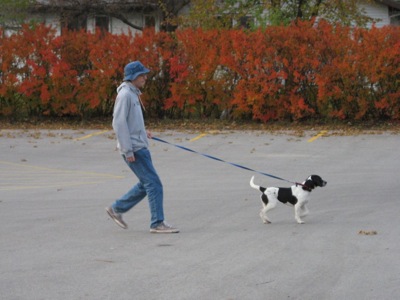 to run with me while I bike, to love playing fetch with a tennis ball (especially if it squeaks!), to sit and even sleep on my lap,
to play tug, to come when I call (usually with a delay if squirrels are around), and to get attention and food in any way she can trick us into it.
This year has just flown by. Bella has been everything I hoped for in a dog.
She is quiet inside, most of the time, and stays away from wood in the house.
She loves to be outside which draws me outside a lot, one of my most favorite parts.
She loves to exercise, and has been my constant companion as I walk or bike.
I find any walk I have to take without her as a waste, unless it's a date with David! She has gone from being scared of tennis balls to learning how much fun they are and now LOVES to play fetch! David is happy about that!
It has been a great year and I praise God for the gift and blessings in Bella!
Comment • ~ permanent link ~ • Category: [News / Rita]
August 14, 2010
In the last twelve months David and I have driven from one side of the country to the other. Not only that, but we also hit both ends of Canada. Last fall we drove from Ithaca, NY to Prince Edward Island, Canada. Two weeks later we drove from Ithaca to Fargo, ND. This Summer we drove from Fargo to British Colombia, Canada. Here are a few more photos of our trip out west.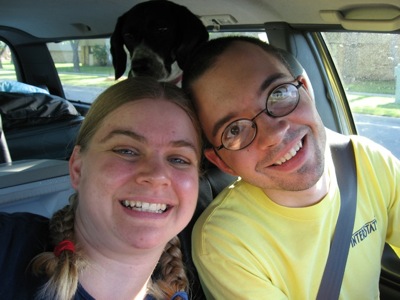 David and I took Bella with us. She was a great "grounder" for me to keep me exercising while we had her. She traveled rather well too.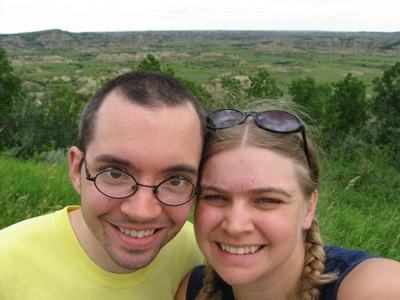 On a previous trip out to Montana last October, I saw the badlands of the Theodore Roosevelt National Park and was in awe. David and I stopped for a short visit.
On our way through Montana we stopped by Allison and Greg's and saw their house and garden and green house and town. Such Fun!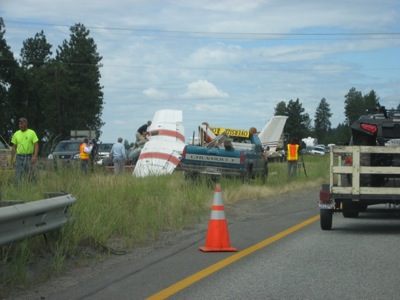 Beware of random planes.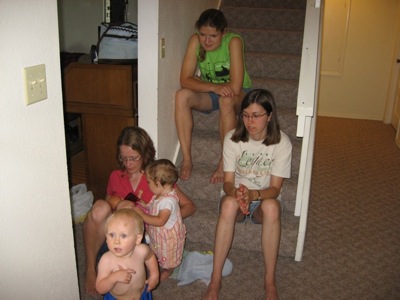 In Sunnyside, where David's brother lives, and where we spent almost a week helping him pack before his wedding, we had a great evening with his closest friends, who are also our friends. It was so much fun to catch up and see the kids!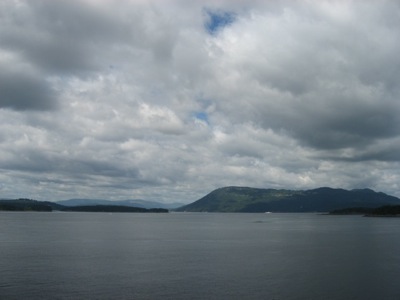 David and I took a trip with his parents to Vancouver Island for a night and two days. The ferry ride was beautiful!
Mom and I were really excited about seeing a few of the gardens in Victoria. This was a smaller one we visited first.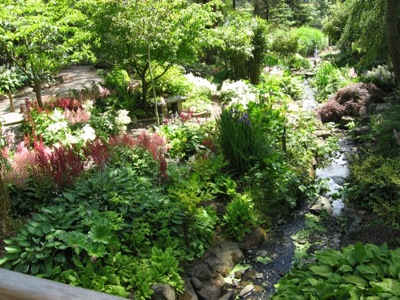 I loved the Japanese garden at this smaller garden. It was so green and peaceful. So much variety in the small space.
I think this was my favorite spot of the whole garden.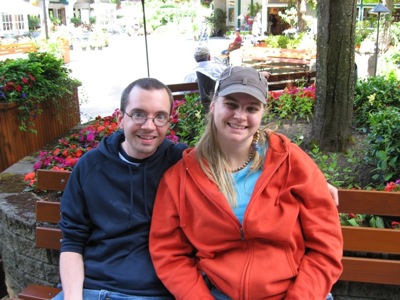 Then we went to the famous Buchart Gardens. It was amazing!
Mom and Dad walking through the rose garden.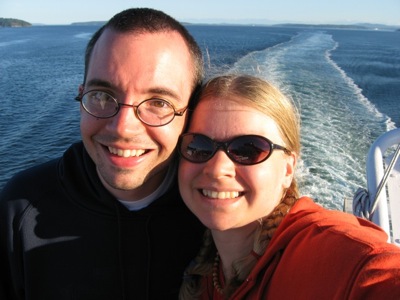 The trip back.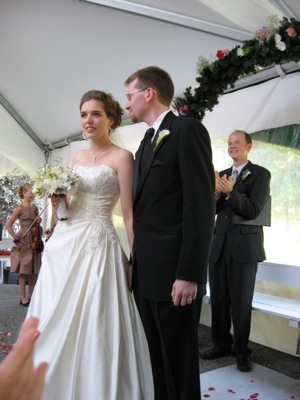 Of course there was the wedding part of the trip, you can see more photos in a previous post.
Don't we look great? :)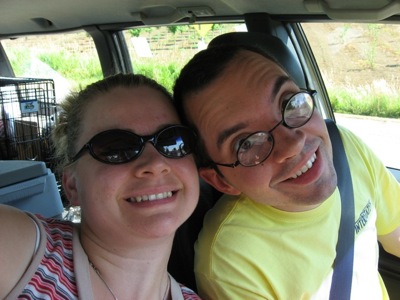 Here David and I were waiting at the border to go back to the states and pick up Bella. We left her at The Barking Barnyard Kennels in Yakima, WA, and she had a WONDERFUL time. I highly recommend them if you are in the area!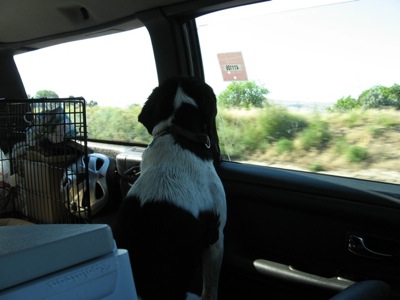 See, here she is. Still wet from the quick bath they gave her just before she left. The Kennels are in the desert after all, and she was dusty!
On the drive home we drove through some crazy weather.
It was wet and beautiful!
Comment • ~ permanent link ~ • Category: [News / Rita]
August 13, 2010
My Grammie had her 85th Birthday this year, and she had a big party. She asked me to come home for it and I was more than glad to obey!
My Favorite part of the trip to NB was being there a day earlier than everyone else. I was able to spend a quiet evening with Grammie and U. Gerry and Julia and Sophie before it became busy and noisy. When I said my last good-byes to Grammie at the end of the week she told me she was glad that I was early too, just for that reason. I love my Grammie!
(Old photo from visiting her a year ago)
Family!!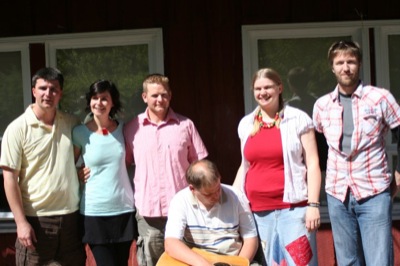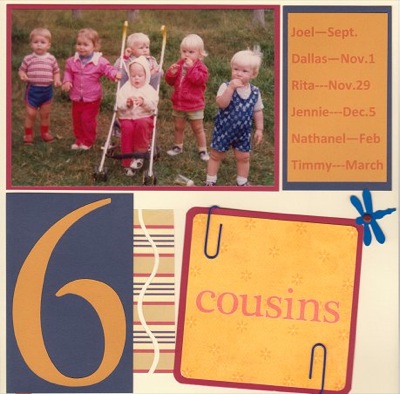 Long story short, Grammie has 8 children. 6 of those 8 children had a child within 7 months of each other. This year, while Grammie turns 85, we 6 cousins all turned 30. Grammie wanted us to come home so we could get a picture taken together again. The last time we had a photo of just the 6 of us was when we were one year old! To top all this off, when mom put up photos on Facebook of us from then and now, my cousin's wife noticed that we were all standing in the same order in both photos! It was not planned. How fun is that!
Grammie and her kids.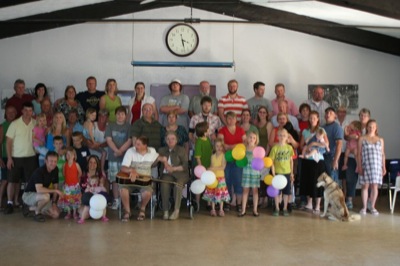 The Whole clan! (that could make it)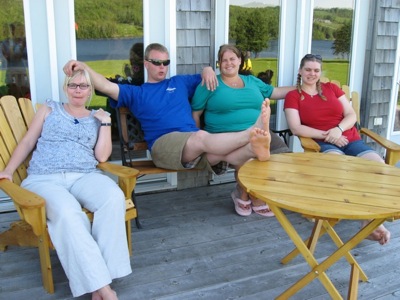 Me and my siblings, minus one.
Siblings and Sibling-in-law and Sibling's new dog.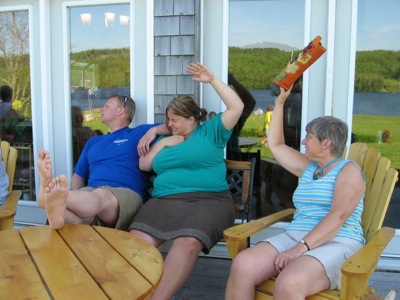 Mom keeping Debbie in line.
Playing Frisbee.
Sophie!
Lou and Sophie.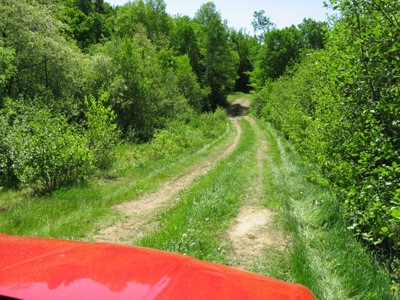 I love New Brunswick! Debbie and I took the hired hand some lunch in the back fields where he was working, I loved the drive in the woods to get there!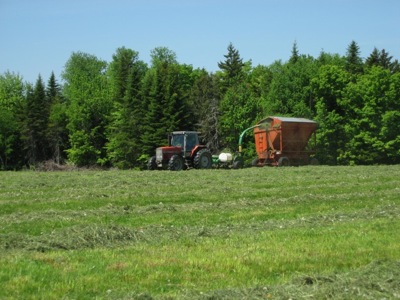 Watching Dad work while we deliver lunch.
Last morning in New Brunswick.
Love you Grammie! Thanks for having a party!
Love to you all. In Christ,
Rita
Comment • ~ permanent link ~ • Category: [News / Rita]
August 06, 2010
I was going to do a combine post of our 6th Anniversary weekend and my trip to New Brunswick for Grammie's birthday, because they were all part of the same large trip for me, but I have so many pictures to share that I'm splitting it into two. Today will be our anniversary and tomorrow will be my trip to NB.
David and I went to the Science Museum to see the Dead Sea Scrolls and the St. John's Bible. Since we had to buy tickets to the rest of museum too, we made use of them!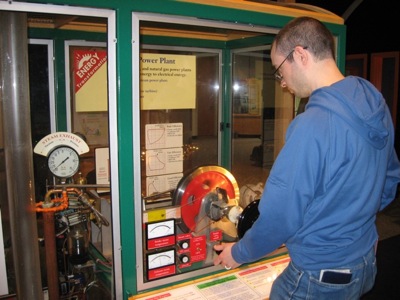 We took a walk by the river when we were tired of the Museum.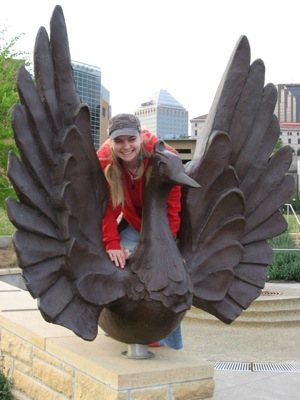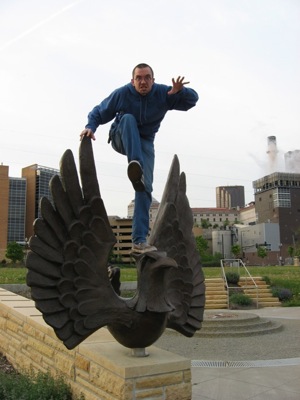 Random bird sculptures on the River Walk.
We took a special trip to see a collection of hand carved spoons on display in the Landmark Center. Mine didn't make it as part of the display, but I loved seeing so many spoons from other carvers I have found online! It was great!
I don't usually put up photos if I don't like myself in them, but I really like David's smile that it won out.
We spent the weekend with Russel and Jenna, it was Great! You guys are Great!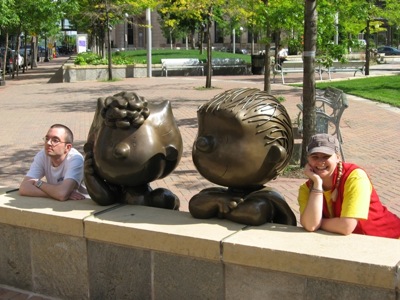 Cuteness
More Cuteness.
Love to you all! In Christ,
Rita
Comment • ~ permanent link ~ • Category: [News / Rita]
August 04, 2010
Ok, ok, they have been married for a few weeks now, but I'm a little slow now that we are home again. Recuperating from vacation and all that. I have so many photos from the past month that there are too many for just one post, this time I'll just put wedding related photos up, and next time I'll play a little catch up.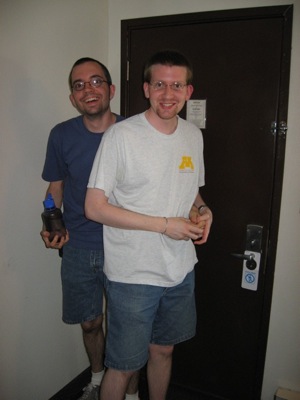 It's been a while since Jon and David have seen each other.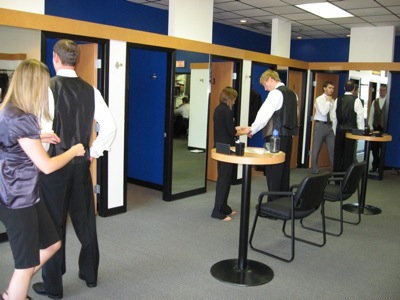 Men trying on their tuxes.
Future bride, current bride, most recent bride and what we do to them at bachelorette parties. :)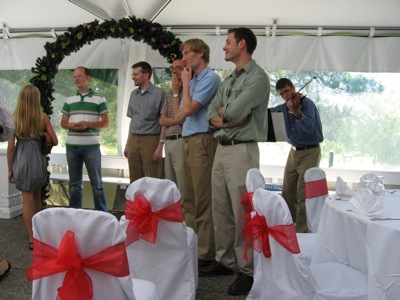 Rehearsal. Don't they look good!
Pre-wedding photos. I love that man. You know, the one in the front. He's the Best man.
Wedding Party
The New Hjelle Family. We love you Eryn!!!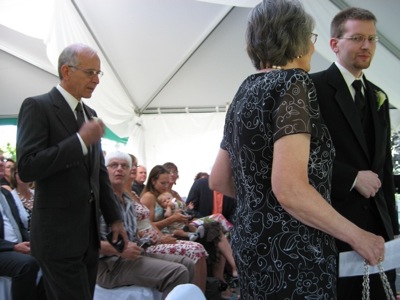 The wedding begins! (It's hard to take good photos when i'm so close to the action, but I have a few!)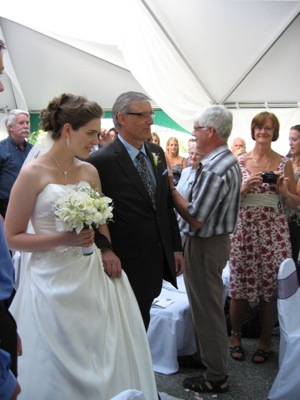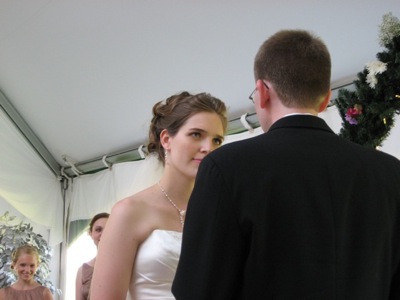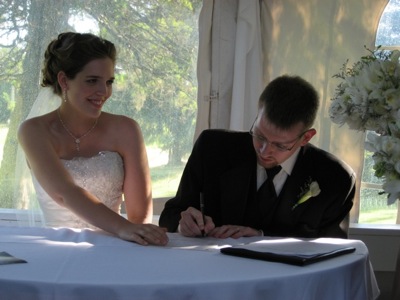 Making it legal.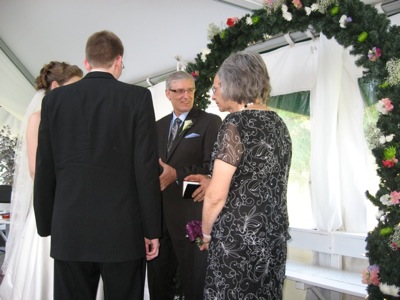 Prayer of blessing by the parents.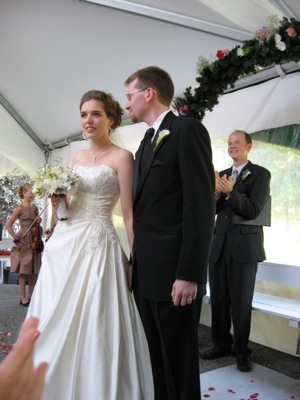 Bride and Groom! I mean, Newlyweds!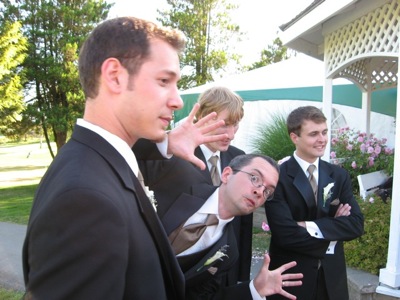 My Best man again!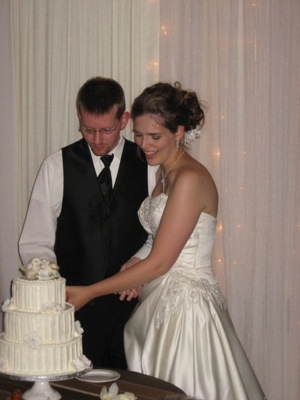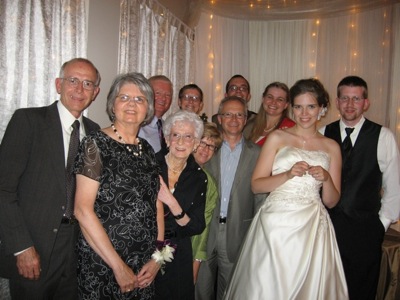 Jon's side of the family. :)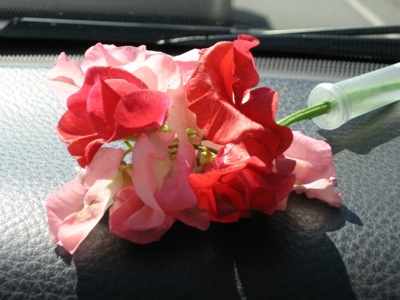 Sweet peas for the drive back to Fargo.
Love to all! In Christ,
Rita
Comment • ~ permanent link ~ • Category: [News / Rita]
May 03, 2010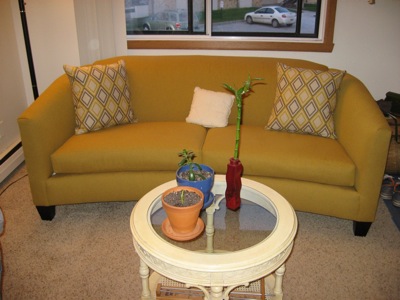 Yellow, un-square and comfortable! We are so glad to have a new couch!
The old couch? Here it is in all it's glory:
And now?
Have I mentioned that I have always really liked the fabric on this couch?
So, I gather what I like, and throw the rest away. (Although I would have like to have kept some of the wood as it was really pretty, but way too much work to get apart.)
So now, we will enjoy our new couch.
In Christ,
Rita
Comment • ~ permanent link ~ • Category: [News / Rita]
April 20, 2010
For the last two months I have been amazed at the changes I have been seeing in Bella. It's almost hard to recognize her as the same dog we picked up in October.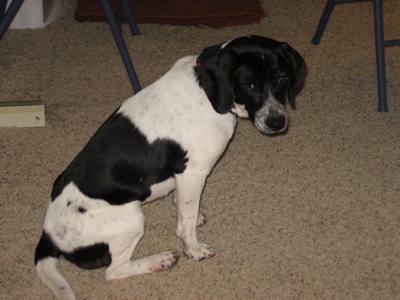 On the day we picked her up, the only thing we knew that was "wrong" with her was that she wasn't leash trained and she was a bit intense when she obeyed the "sit" command. (Think: sitting so intensely with her eyes huge to the point of seeing white all around her irises.)
We soon learned that she was rather scared of a lot of things. She quickly ran out of the way if we walked by with anything in our hands. She ran from any toys we offered her, especially hard plastic. If we threw something in her direction, she ran. Strangers, ran. Raised our arms, ran. Sudden noises, ran. Falling objects, ran. David's computer on his lap, ran. You get the picture. She would run quickly at anything not done quietly and cautiously.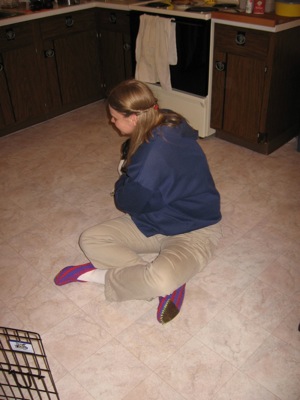 (Bella running from the camera after sitting nicely on my lap for the first time. - Thanksgiving weekend)
But on the other hand, she longed for and begged for attention all the time. She would sit so fiercely at our feet and we didn't know if we should pet her or not. We were glad that she wanted our attention, but we didn't want her always thinking she had to be so stressed about it.
("Food please…")
Now that it has been 6 months since we got her, we are amazed at the changes we see. We did take her to obedience training as soon as possible, if even just so we knew how to take care of her more than for her obedience.
Bella no longer runs when the pillow falls from my computer chair (every time I stand up!).
My clapping and waving of hands has become a game to the point of boredom.
Toys? Loves them. The cloth ones mostly, especially ones with squeakers! (That in and of itself was a learning curve! It was fun to hear her bark or growl at the toy after she got it to squeak, she wasn't sure what to think!)
And walking? Walking is my favorite part. Almost two months ago something clicked in Bella and me and she is heeling so very well. After much pulling (on both ends!), yanking, crying, kicking (yes, even kicking, sigh.), choke collar, Gentle Leaders, food, bribery, and frustration, Bella and I figured out what works well for us. It wasn't any one thing that worked a miracle but a combination of things. The two biggest ended up being the use of the Gentle leader (after I had already broken her from her extreme pulling by bribery) and switching her from my left side to my right.
It was really silly of me to wait so long in switching which side I made her walk on, Bella has always been better on the right. But in asking the trainer in obedience class about it, she said to teach Bella on the left. (Now I think she really meant that for the class I had to have Bella on the left, or dogs would be running into each other and causing problems.) Not only is Bella better on the right, and more relaxed, but my reflexes are quicker in my right arm. On top of that I realized one day that I carry all heavy/bulky objects on my left side (babies and laundry baskets) and it just makes sense to keep her on right side to free up my left.
(Pause!!! As I am writing Bella is growling and barking at something in her sleep! How funny! Go get'm Bella!)
Now all those people who have seen me walking Sheyenne St, yanking and pulling my dog around, now see us walking together side by side. And it feels good! It feels so good, that I realize it's just a matter of time before Bella's other issues slowly go away, and I am glad!
Oh, and if we walk by with something in our hands, now she follows us to find out if it might be food!
In Christ,
Rita
Comment • ~ permanent link ~ • Category: [News / Rita]
April 19, 2010
Since I haven't been posting for a while, I thought I'd give a little update through photos again. I see that I have to go back to January.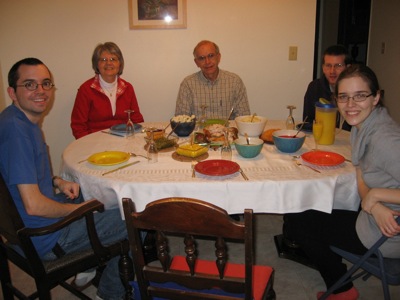 The biggest event that happened in January is a visit from Jon and Erin for a belated Christmas celebration together. (Silly them, they were not engaged until AFTER they left us in January, so we haven't been able to celebrate together in person.)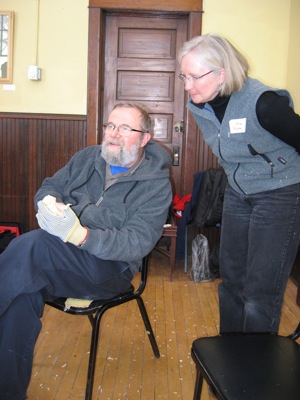 In February I had the opportunity to attend a carving class taught by Harley Refsal a the Milan Village Art School. There I learned to carve a caricature to add to my carvings. (I don't have a photo of it yet, I'm not quite sure if I'm finished with it yet.)
Shortly after the carving class David and I took a spontaneous trip to Minneapolis to go to Ikea and buy a new mattress. While we were there we stayed with The Mahans.
(Spoon carved by Fred Livesay) At the beginning of March David and I took a spoon carving course together, also at the Milan Village Art School. It was a great weekend! Even if David decided that carving is not his thing…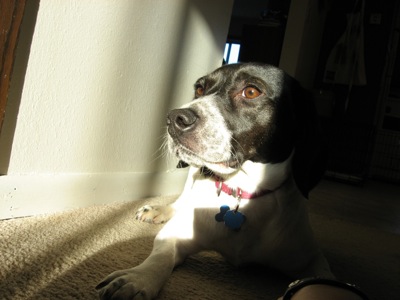 Bella and I are excited to find that even if the sun doesn't reach inside the apartment in the winter, at least it does in the summer. We might not be so glad for it later, but for now we will enjoy it!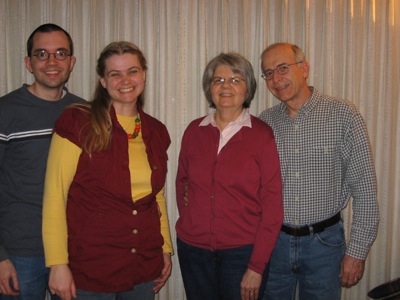 David and I spent Easter with David's parents, which was double the enjoyment because it was also Mom Hjelle's birthday!
And that brings us to this past week which you heard about in the last post. So I leave you with a colourful photo of part of our living room and my carving station.
In Christ,
Rita
Comment • ~ permanent link ~ • Category: [News / Rita]
April 17, 2010
Do you know that I am glad that Mom didn't realize how far away Fargo is? If she did, she might not have decided to come visit us on their way home from their latest DRS trip down south.
It was a long drive for them, and very much out of the way, but I am so glad they came! We had a blast! When we were not eating and playing games, we were shopping or something similar. My favorite part was the games. I miss playing games! Good thing I'll be visiting them in a month!
I've not been good at remember to take photos lately, but I did get a few I can share with you.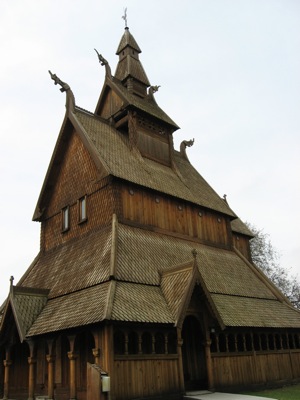 On Tuesday we went to the Hjemkomst Center to see the Stave Church.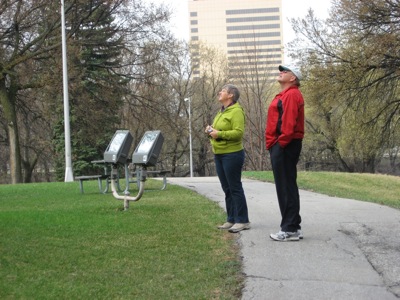 Mom and Dad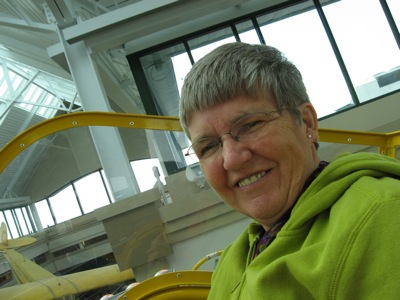 Mom and I riding the Sheels Ferris Wheel.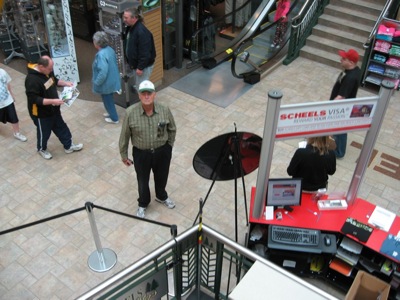 Taking a Picture of Dad waiting for us so we can get some coffee (and ice cream and pie and fudge and…)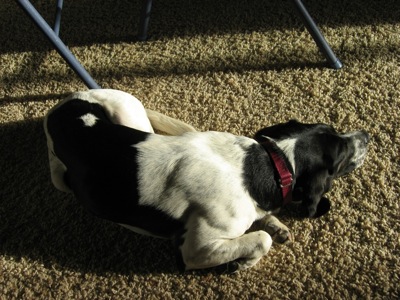 Bella sunning herself while she waits for us to be ready to take her for her walk. Mom and Dad were still in bed at this point, or she wouldn't look quite so relaxed. She did better with them than we thought she would, but still a bit skittish.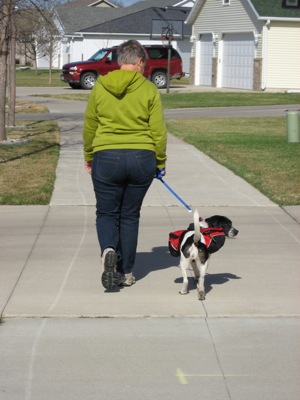 Mom taking a turn walking Bella, and Bella wondering why I dropped behind.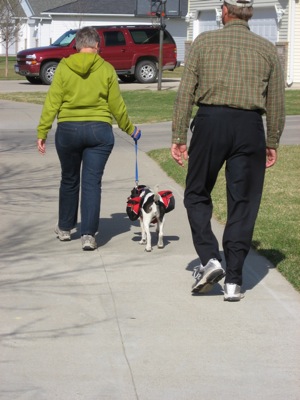 It's too bad that I cut Dad's head off in this photo, or it would have been a really good one. It's still a good one to leave you with.
Thank you so much for coming Mom and Dad! See you in about a month, Lord willing!
Love to you all,
Rita
Comment • ~ permanent link ~ • Category: [News / Rita]
March 20, 2010
Horray! Spring is finally coming to Fargo!
Well, I'm really about two weeks too late with this announcement, but it's still true. About two or three weeks ago the sun started shining brightly and started melting the snow. Then it rained lightly for a week straight, and now the sun is out again. The snow is mostly gone and I'm excited to be walking the dog in warmer weather!
Along with the melting snow, and the bit of rain that we had, the river is again rising. You may have heard about the flooding Fargo and surrounding areas had last year, this year is also expected to be rather high, but not quite as high as last year.
For date night, David and I decided to go flood hunting together. We live in West Fargo, and don't have to worry about flooding really. We also purposefully have a second story apartment.
Here are a few photos of our drive last night.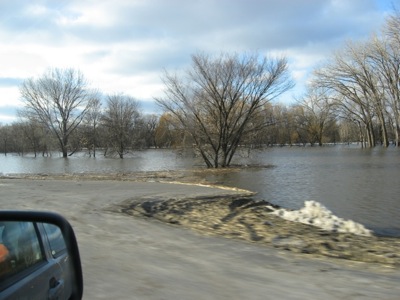 I believe this is supposed to be nice park by the river. It's not a part of town we are usually in, so I can't say for sure.
No, this is not a beautiful lake. Well, it does look like it here, but I believe this is a field that got in the way of the water. The water won.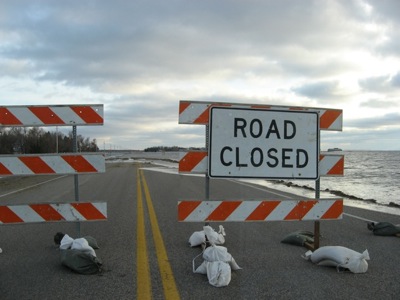 The road we were driving on suddenly came to a stop with these road signs. The water was running over the road here pretty quickly.
Here you can see the flooding in the fields better. It's a photo taken on the on ramp to the highway. You can see the fence posts, etc. As we drove down the highway we could see that it wouldn't take much more rising for the south bound highway to be taken over by water too.
After getting to a point where we couldn't see much from the highway, we saw a sign for Fort Abercrombie, so we thought we'd check it out on the way too. After passing the and getting to the MN side of the river, we saw this historic sign.
And one of Bella just to make you smile. She did join us for our flood hunting, and really enjoyed smelling the fields thought the crack in the window, but this photo is of her watching for David when we picked him up from work on Thursday.
Comment • ~ permanent link ~ • Category: [News / Rita]
January 31, 2010
I am quite excited to share that my sister Julia just got a dog! I didn't know that our family has been aching for dogs all these years, but it appears to be so.
My brother has a dog. He had a yellow lab, Sammy, for a long time, but after that dog died he got another yellow lab, named Skippy, to grow up with his boys on the farm. (Sorry I don't have a photo)
My sister Elizabeth got a puppy this spring. I was so jealous! As soon as David and I thought we might be moving I started talking hard about getting a dog, and looking up all the available dogs in Fargo that I could find out about on line. Molly is a black cockapoo. The kids love her!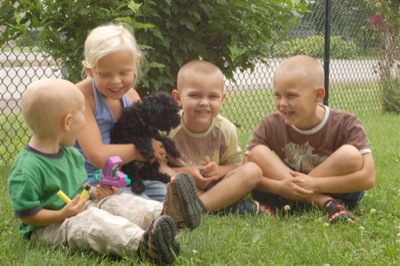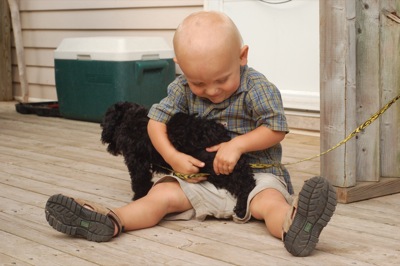 Then, in October, as you know, Bella joined us and we are learning so much and it keeps getting better!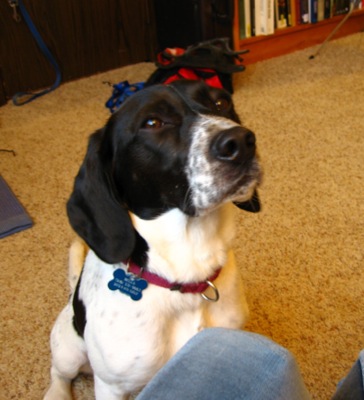 Now there is Sophie. A black Miniature Poodle that Julia adopted. What a cutie!
Debbie has declared that she does NOT want a dog. But does enjoy ours I am sure.
Comment • ~ permanent link ~ • Category: [News / Rita]