January 24, 2011
This past weekend I had another opportunity to take a class at Milan Village Art School in Milan, MN. Last year I took a Figure carving class and a spoon carving class. This year I decided I wanted to make my own knife. I want a good knife about me for general purpose and I don't want to ruin my carving knives.
I took the Beginning Norwegian Knife Making Class with Jon as the instructor, and Robin as his assistant.
Making the actual knife was not difficult at all. Most people used the disc sanders to shape their handles, I decided to carve mine since that is what I am most familiar with. I didn't take any photos of the process, I was having too much fun getting the handle shaped well to my hand.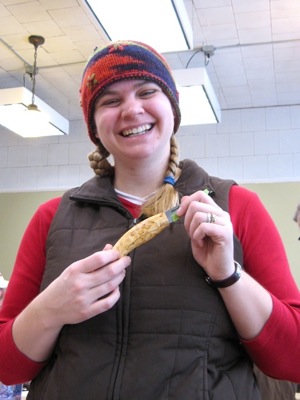 We were able to shape, sand, and oil our knives in the first day! (We did not make the blade.)
The second day, Saturday, we worked on making a sheath to fit our knives perfectly.
Sewing the sheath together was my favorite part. Straight forward and rather relaxing. (No, our leather was not from Tandy)
I was a bit stuck when it came to decorating the sheath. By that time my energy and creative levels were draining. I knew what I wanted, but wasn't able to make myself do it. Jon came to my rescue and did most of the decorating for me. I love the result! I just added a little touch to pull it all together.
We left the knives in their sheaths over night to let the leather dry well and in shape to the knives.
Sunday was spent in staining the sheath. I had a hard time figuring out what colour to stain it. I didn't want it to clash with my only nice belt.
In the end, I am pleased with the whole thing!
Comment • ~ permanent link ~ • Category: [News / Rita]