October 24, 2010
October 10, 2009.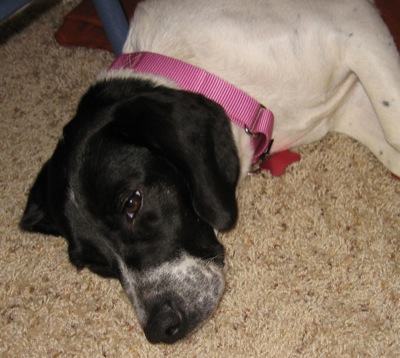 It's a date that has been ringing in my mind the past few weeks as the date that we picked up Bella, but as I neared the anniversary, I wondered if it wasn't the date of my friends wedding instead. In my laziness, I didn't check my diary until about the 13th. Yes, it was October 10, 2009 that we first got Bella. (And a happy Belated Anniversary to Allison and Greg!!)
When we got Bella, she was scared of just about everything.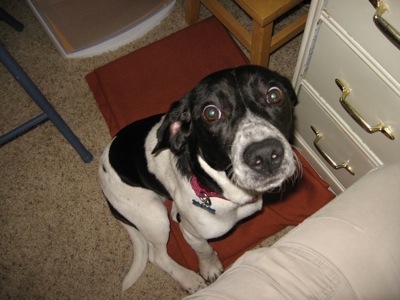 It made us nervous at first, not wanting to do anything more to mess her up, but looking back, it turned out wonderfully. Bella was moldable, willing and eager to please and to learn, even if it seemed at the time to be rather slow.
She has learned: to not pull on the leash (most of the time),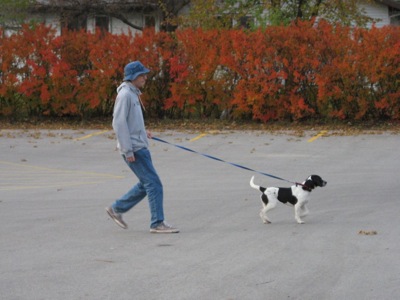 to run with me while I bike, to love playing fetch with a tennis ball (especially if it squeaks!), to sit and even sleep on my lap,
to play tug, to come when I call (usually with a delay if squirrels are around), and to get attention and food in any way she can trick us into it.
This year has just flown by. Bella has been everything I hoped for in a dog.
She is quiet inside, most of the time, and stays away from wood in the house.
She loves to be outside which draws me outside a lot, one of my most favorite parts.
She loves to exercise, and has been my constant companion as I walk or bike.
I find any walk I have to take without her as a waste, unless it's a date with David! She has gone from being scared of tennis balls to learning how much fun they are and now LOVES to play fetch! David is happy about that!
It has been a great year and I praise God for the gift and blessings in Bella!
Comment • ~ permanent link ~ • Category: [News / Rita]