October 29, 2009
Well, life with a dog is definitely different than what we are used to! The first week and a bit was hardest. I didn't know what to do with another body in the house, all day long! But Bella and I are adjusting quite well and David is coming along too. It's harder when he is at work all day.
Here are a few photos of the past two and a half weeks.
Bella is allowed in three of our five rooms in our apartment, one of them is the bathroom. I refuse to pet her while doing my business, but I don't object to her being in the bathroom with me. So she often resorts to curling up perfectly on a round rug.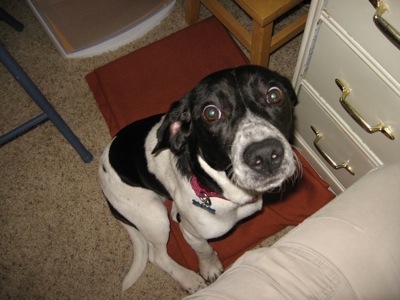 Bella's insane look when she is begging to be petted. It's the first look she gave us when we brought her home (actually, it can be worse!). We don't pet her when she looks at us this way, we wait until she is more calm and not so crazy looking. She often comes to me while I'm at the computer to beg for attention.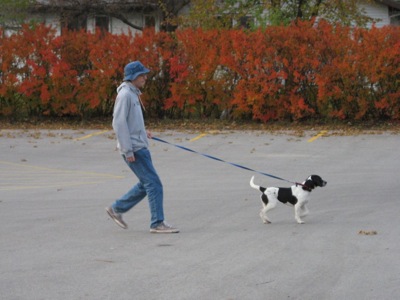 Bella came housebroken but not leash trained. We have been working hard with that, especially on the weekends when David is home. Here she is supposed to be behind or beside David, not in front of him, but it's the beginning of the exercise, so we don't ask for much.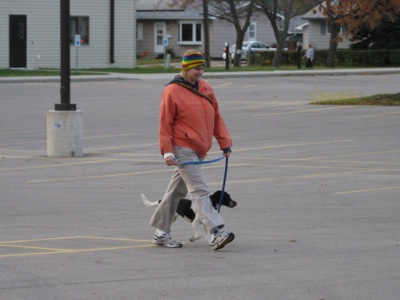 I let David do the hard work and then I finish up when she is already starting to "get it."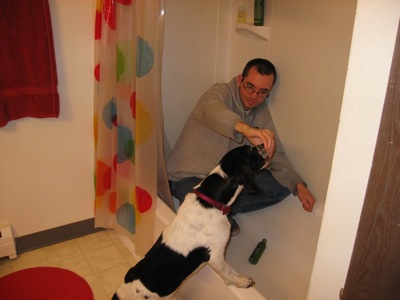 David was playing Hide and Seek with Bella after work one night, but there are not too many places to hide. David climbed in the tub and we thought, "Hey, what a great way to get her used to being by the tub for a future bath!"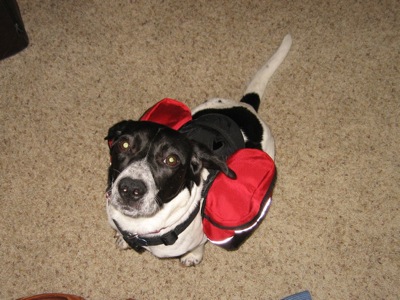 Even before we got a dog, I knew I wanted the dog to be able to carry a little back pack for me with my emergency diabetic supplies. Here it is! Bella, all decked out and ready to go! (Sorry for the "red-eye")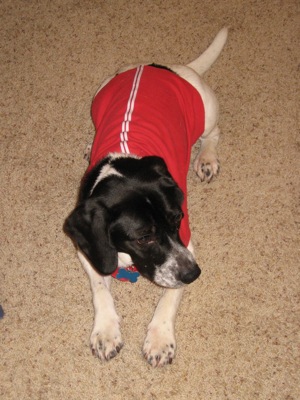 Since Fargo can get rather cold in the winter time, I had been trying to figure out what the best thing would be to do for Bella. A friend heard a trick from someone else for inexpensive dog sweaters. She recommended cutting up a pair of sweat pant legs to get a great fitting tube top type shirt. Her daughter does it for the pit bull she has and the dog loves is. So I hunted the local thrift store for the perfect pants. We love the nice stripe. And Bella doesn't mind being put into sweaters, etc. I haven't figured out yet if she prefers it or not, but she doesn't complain.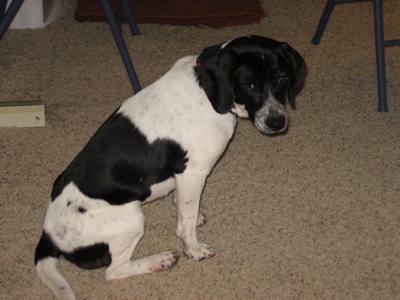 One thing Bella does complain about is getting her picture taken. She doesn't care for the flash, and she is skittish to anything foreign in my hands around her. But she will tolerate it long enough to get a photo or two.
Comment • ~ permanent link ~ • Category: [News / David / Public Policy]