March 06, 2008
I feel I could have a daily blog just on Ithaca's weather. Having lived here for just a few months, I think I've seen everything. Most days my blogs would be excited ones about how amazingly beautiful it is outside. At the same time I've wanted to write a lot of blogs about how disappointed I am in this winter weather. I thought we were supposed to be getting a lot of snow! We are in upstate New York after all. Don't they get a lot of snow? Evidentially we are in the wrong part of the state for that.
Despite my complaint about the lack of snow, Ithaca weather is amazing. Well, it is for someone who loves all kinds of weather, especially the "bad" stuff. We've had drenching rains, glorious sunshine, peaceful snowfalls, high winds, gloomy clouds. Just about everything.
Today is a beautiful spring day. The rivers are melting, as well as the snow. Yesterday we had cold rain all morning. Two days before that we had a beautiful snowfall that transformed the sticks in the ground (trees) into a fairy land.
As disappointed as I am that we haven't had many chances to go skiing or sliding because of lack of snow, I am glad we live in Ithaca. It really is amazingly beautiful!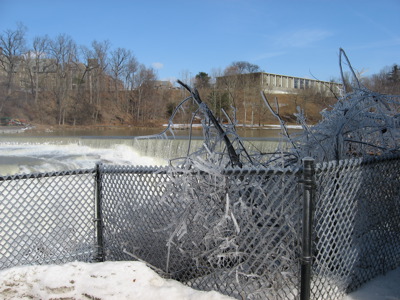 In Christ
Rita
Comment • ~ permanent link ~ • Category: [News / Rita]